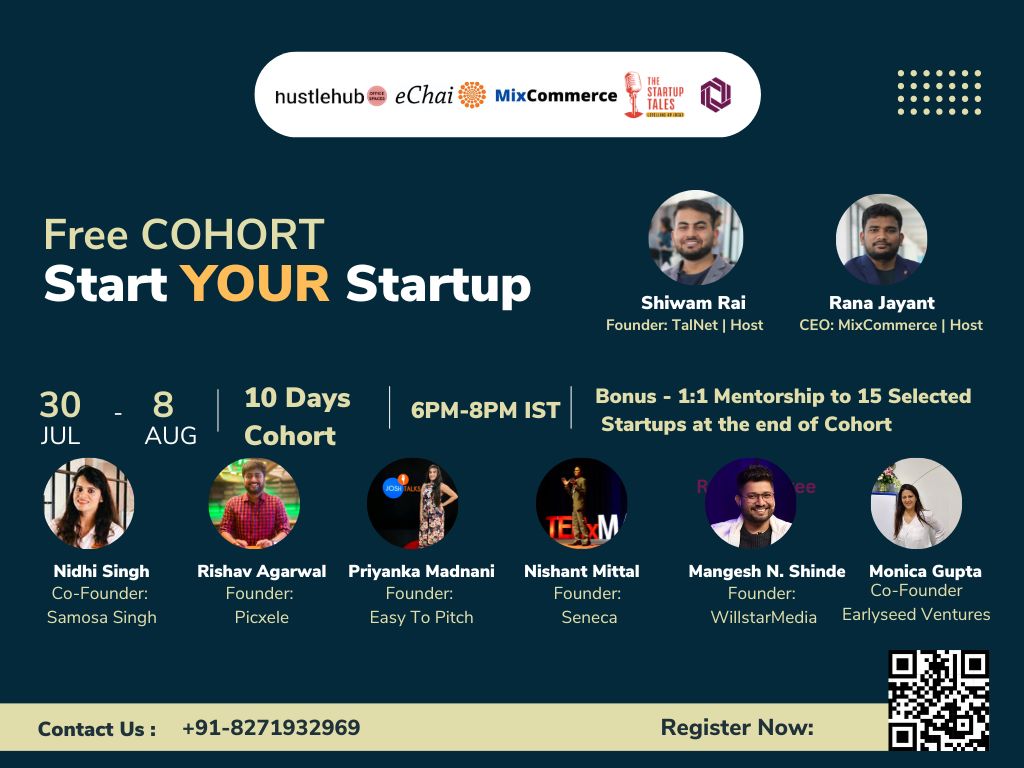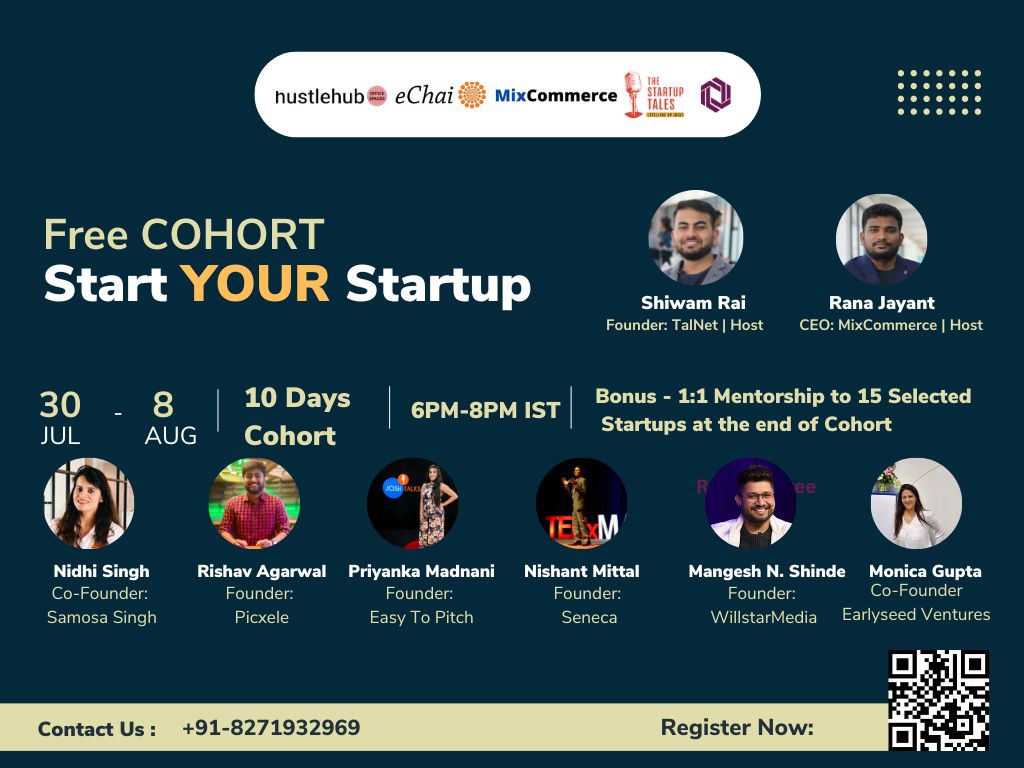 "START YOUR STARTUP" is a dynamic and immersive cohort that aims to equip you with the knowledge, skills, and confidence to kickstart your entrepreneurial journey. Whether you're in the ideation phase or have already taken initial steps, this program will provide you with the essential building blocks to build a strong foundation for your startup and set it on a path to growth and success.
 Who Can Apply: 
"START YOUR STARTUP" welcomes early entrepreneurs, dreamers, and visionaries who are passionate about their startup ideas and eager to learn from experienced mentors. Whether you have just started conceptualizing your venture or have a rough prototype, we encourage you to apply and be a part of this empowering journey.
 Get Ready to Ignite Your Entrepreneurial Spirit: 
Embark on an unforgettable 10-day adventure that will shape the future of your startup. "START YOUR STARTUP" will provide you with the knowledge, resources, and network you need to turn your dream venture into a reality. For any inquiries or further information, contact Dolly: +91 +91 6300 810 401. 
 Get ready to embark on a transformative journey with "START YOUR STARTUP" and let's build the next generation of successful entrepreneurs together!
🎯 Agenda:
Topics of Discussion
1: Welcome & Introduction to Entrepreneurship
2: Nurturing Your Startup Idea
3: Identifying Your Target Market & Customers
4: Crafting a Winning Business Plan
5: Building an Effective MVP (Minimum Viable Product)
6: Marketing & Branding Strategies for Startups
7: Fundraising and Essentials
8: Legal & Financial Considerations
9: Scaling Your Startup for Growth
10: Demo Day – Pitch Your Startup to Potential Investors
11: 1:1 Consulting for selected startups

🗒 Program Highlights:
Intensive 10-day program
– Free of charge for selected participants
– Guidance from seasoned industry experts and successful entrepreneurs
– Interactive workshops, mentorship sessions, and hands-on activities
– Networking opportunities with like-minded peers and potential co-founders
– Special focus on ideation, business model validation, and scaling strategies
-Access to valuable resources and tools for startup development
-Collaborative and supportive learning environment
Partners and Collaborators:

We(MixCommerce) are partnering with Talnet and collaborating with eChai Ventures(Biggest Startup Community in India), Hustle Hub(18000 seater co-working space provide) and The Startup Tales(Media Partner) to make this event successful.